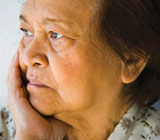 If you have recently noticed swelling, bleeding or pain in your gums, you may have developed a gum abscess. It's the result of periodontal disease, an infection in the gum tissue caused by bacterial plaque that has adhered to the teeth. It's important in the short term to treat the abscess, and in the long-term the underlying gum disease for the survival of the affected tooth and your overall health.
A gum abscess is a sac filled with infection that has developed between the tooth and gum. Besides swelling, you may also notice tenderness when you bite down on a tooth or feel that the tooth is loose. If the abscess originates from a root canal infection it tends to be much more painful, and the pain will seem generalized rather than from a specific tooth.
The first step in treatment is to drain the abscess. We would numb the area with a local anesthetic and then allow the infection to drain. After drainage we would clean and irrigate the infected root surfaces to remove any noticeable bacterial plaque, and possibly prescribe antibiotics and anti-inflammatory medication to reduce swelling and pain. The drained abscess should heal in a few days to a week.
The next step is to treat the underlying cause of the abscess. Depending on what we find in our examination, this can include root planing and scaling (deep plaque and tartar removal), or a root canal treatment where the infected pulp within the root canal is removed, and the canal is then cleaned, filled and sealed.
It's also a good idea for patients with gum disease to have a thorough health checkup. It's possible that other general health conditions such as diabetes or heart disease may be contributing to the gum disease, and vice-versa.
Treating a gum abscess and the underlying cause is about more than relieving pain or discomfort — you're also protecting your dental and general health.
If you would like more information on the treatment of abscesses or gum disease, please contact us or schedule an appointment for a consultation. You can also learn more about this topic by reading the Dear Doctor magazine article "Periodontal (Gum) Abscesses."