Apple Valley Dental Discussion
Posts for tag: jaw pain
By Apple Valley Dental
October 30, 2017
Have you been wondering why your jaw has started to ache? Your dentist Dr. Samuel Kim in Apple Valley, CA and serving patients in
Lucerne Valley shares a few common causes of the pain.
Grinding
Grinding your teeth, or even clenching them, strains your jaw muscles while you sleep. As a result, you'll wake up with a stiff, achy jaw. Because grinding can cause enamel erosion and cracked teeth and restorations, it shouldn't be ignored.
Bite problems
A bite problem occurs when your teeth don't fit together as they should. A bad bite strains your jaw joints and muscles and also cause other unpleasant symptoms, such as gum disease, enamel erosion, difficulty chewing and trouble pronouncing words easily.
Bacterial infections
An abscess, a bacterial infection that affects tooth pulp, or osteomyelitis, a bone infection, may be responsible for your pain. If you have any of these symptoms, you may also develop a fever and swollen lymph glands. Both of these conditions are dental emergencies and require immediate treatment in our Lucerne Valley office.
Temporomandibular joint dysfunction (TMD)
TMD, also called TMJ, causes pain in your jaw joints, muscles, ligaments or tendons. In addition to pain, you may experience frequent headaches, jaw locking, neck or upper back pain, ear pain and popping or clicking sounds accompanied by pain.
How is jaw pain treated?
Ice, heat and over-the-counter pain medication can be helpful if your jaw pain is mild. It's also a good idea to avoid eating hard foods if your jaw hurts. If your pain doesn't go away in a few days, is severe or is accompanied by a fever, call our office to schedule an appointment.
We recommend a variety of treatments that will help ease your pain. For example, a nightguard can help decrease pressure on your jaw caused by grinding, while orthodontic treatment will realign your teeth, eliminating bite problems. Abscesses are treated with root canals and antibiotics. Antibiotics are also needed if you have osteomyelitis. TMD pain can be relieved with an oral splint, a device that repositions your jaw while you sleep, reducing pressure and pain.
Interested in finding out how you can relieve your jaw pain? Call Apple Valley, CA dentist Dr. Samuel Kim serving patients in Lucerne Valley at (760) 247-6007.
By Apple Valley Dental
April 17, 2014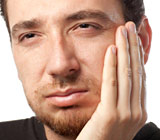 If you were recently in an accident or received a hard hit while playing sports and you have been feeling jaw pain ever since, you may be suffering from a serious injury. It is important that you make an appointment with us immediately, so that we can conduct a proper examination, make a diagnosis and prescribe a suitable treatment. Even if the pain is lessening, you should still make an appointment.
Without seeing you, we have no way of definitively diagnosing the cause of your pain. However, here are a few possibilities:
You displaced a tooth or teeth.
You indirectly traumatized or injured the jaw joint (TMJ — temporomandibular joint). This trauma will cause swelling in the joint space, and the ball of the jaw joint will not fully seat into the joint space. If this is the issue, it is likely that your back teeth on the affected side will not be able to touch. Over time, the swelling should subside, allowing the teeth to fit together normally.
You may have a minor fracture of your lower jaw. The most common is a "sub-condylar" fracture (just below the head of the joint), which will persist in symptoms that are more severe than simply bruising and swelling.
You may have dislocated the joint, which means the condyle or joint head has been moved out of the joint space.
All of the above injuries can also cause muscle spasms, meaning that the inflammation from the injury results in the muscles on both sides of the jaw locking it in position to stop further movement and damage.
The most critical step is for you to make an appointment with our office, so we can conduct a physical examination, using x-rays to reveal the extent of your injury. We'll also be able to see whether the injury is to the soft tissue or bone.
Treatment may involve a variety of things, including anti-inflammatory and muscle relaxant medications. If your teeth have been damaged, we'll recommend a way to fix this issue. If you have dislocated your jaw, we may be able to place it back through gentle manipulation. If you have fractured your jaw, we'll need to reposition the broken parts and splint them to keep them still, so that they can heal.
If you would like more information about jaw pain, please contact us or schedule an appointment for a consultation. You can also learn more by reading the Dear Doctor magazine article "Jaw Pain."